Imagine having easy, free access to the best scholarly research in your industry. Rather than having to pay expensive membership costs or receive partial, second-hand reports, you can delve right into the details to come to your own conclusions about your target market, innovations in your industry and social conditions that impact your business. The open access movement, with its roots in the 1960s, has been picking up speed over the last decade to benefit businesses, scholars and the public in general.
What is the open access movement?
The open access movement is primarily happening in the scholarly and research community to make research literature easily accessible and available for free to the public under licenses like the Creative Commons. This research, depending on the license, may be freely obtained, shared, used in other research and studies, and built upon to increase knowledge for the public good. Conditions for sharing, such as attribution, are clearly stated so that both the owner of the copyright and the user understand how something may be used with as little risk as possible.
Open access currently takes two routes, so to speak: gold and green. Gold open access involves publication in open access journals, which gain some of their funding through author fees. Green open access is literature that is self-archived into a public repository by the author after publication in a traditional journal. Either way, the author is able to share his or her work with a wider audience, gaining greater exposure in his or her field, while making it possible for his or her research to benefit the greatest number of people.
Why does it matter to business?
The open access movement strives to create conditions that "facilitate novel social, educational, technological, and business practices, and support productive relationships about networked knowledge and culture," according to the Creative Commons. It allows professionals and businesses to easily and cost-effectively access articles and research literature that pertain to the growth and success of their businesses that they otherwise (given the extreme costs of subscriptions to many journals) would not be able to access. It enables brands to continually learn more about their target market and the cultural and social trends and conditions that impact their industries and brands. Additionally, open access improves the quality of research, as it facilitates international collaboration among scholars, which has clear benefits to the public. After all, if the data gleaned from research studies is more accurate, we not only learn more but learn better.
But why should the public have open access to research literature, rather than paying for it through traditional publications? Perhaps the biggest justification is the fact that the federal government provides grants to researchers in order to perform this research—grants that are paid for by the public through taxes. Until recently, the findings of that research have not been available to the public firsthand. Wouldn't it make more sense, argue proponents of open access, for businesses and consumers to be able to reap the benefits of their financial contributions to research? It can also potentially help to resolve piracy issues and accidental copyright infringement by making information freer legally while preserving copyright ownership.
As Lawrence Lessig, one of the founders of the Creative Commons, has stated, "We need to share more, and share more legally…But in order to do so, the law must change."
To learn more about open access, watch the video below.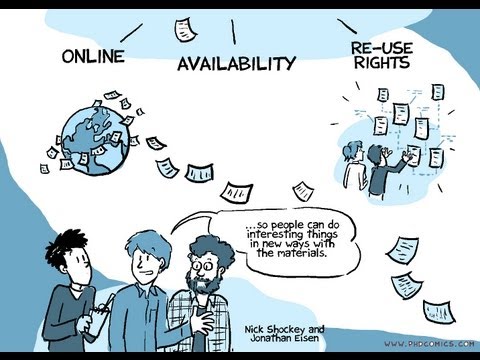 Also check out Heather Joseph's article "The Open Access Movement Grows Up: Taking Stock of a Revolution" and Open Access Now for history and updates on the open access movement and how you and your business can benefit from it.
Related articles
Heidi Parton is the content editor of ASEC Interactive's Get Interactive blog as well as a copy writer for ASEC Interactive. She has an MFA in creative writing from Lesley University in Cambridge, Mass., and a BA in English literature. Heidi's poetry has been published in several print and online journals, and her professional experience includes writing and editing for websites, print and blogs.
Latest posts by Heidi Parton (see all)